Hyderabad is the Joint capital city of the southern Indian states of Telangana and Andhra Pradesh. 1 Occupying an area of 650 sq km, 2 Hyderabad has a population of 6.8 million3 and metropolitan4 population of 7.75 million. Traditionally known for pearl and diamond trading (which gave it the title of "City of Pearls"), Hyderabad has now evolved into a major manufacturing and services hub. Today, Hyderabad has a more diversified economy and is a prominent center of pharmaceutical, biotechnology, information technology (IT), IT-enabled services (ITeS), financial services and infrastructure industry. Its prominence in these industries is evident by the titles like "Bulk Drug Capital of India" and "Cyberabad" the City enjoys.
The City is encircled with several economic hubs viz. Genome Valley to the north; Hitech City and Financial District (comprising of several IT & ITeS and financial services developments) to the west, Hardware Park, Fab City, Hyderabad Gems SEZ, International Airport, upcoming Aerospace & Precision Engineering SEZ to the south; and Infosys Campus and IT & ITeS SEZ to the east. In addition to these, recently setting up of two green field Electronic Manufacturing Clusters towards the south of Hyderabad has been announced. The Cabinet Committee on Economic Affairs has also approved setting up of Information Technology Investment Region (ITIR) near Hyderabad for which the Government has delineated three clusters in the west, south and east of Hyderabad. The Government has also proposed as a part of the ITIR, one of its kind Gaming, Animation, Media and Entertainment (GAME) Park in Raidurg (western Hyderabad).
The city boasts of world class infrastructure and is very well connected by road, rail and air. Three national highways, 5 state highways, a 50 km inner ring road, 158 km outer ring road (ORR), 5 11.6 km PVNR Expressway and several flyovers in the city provide excellent road connectivity within and outside Hyderabad. Secunderabad railway station, Kachiguda railway station and Nampally railway station are the key railway stations of Hyderabad which connect the city to other parts of the country and State. The city also has a light suburban rail transportation system known as Multi Modal Transportation System (MMTS) which facilitates quick travel within the city and suburbs. The Rajiv Gandhi International Airport at Shamshabad, which serves Hyderabad is a world class airport and is rated among the best in the country. It has a current capacity of 12 million passengers and 100,000 tonnes cargo per annum and would increase to 40 million passengers and 1.3 million tones cargo per annum when fully developed. Hyderabad is also soon going to have Metro Rail. Hyderabad Metro Rail, a rapid transit system is currently under construction. The first phase of the project encompasses 3 lines covering a total distance of 72 kms. Two metro stretches i.e. Nagole-Mettuguda (8 km) and Miyapur-SR Nagar (12 km) are expected to commence operations by March 2015.
The real estate market of Hyderabad (office, residential and retail) has directly benefitted from the economic growth and infrastructure development of the City. The real estate developments in the city have been undertaken by not just local developers but also some prominent national and international developers like DLF, K. Raheja, Lodha Developers, Mantri Group, Salarpuria, Ascendas, Tishman Speyer, etc. Today the City is home to several global corporates like Microsoft,Google, Facebook, Dell, IBM, Cognizant, Wells Fargo, Novartis, Infosys, TCS, Wipro,Tech Mahindra etc. Premium brands like Swaroski, Ethos, French Connection, Vinegar, William Penn, GAS, Baggit, Body Shop, Da Milano, Mango, Jack and Jones have also set up shops in Hyderabad.
For better understanding, we have categorized the City's office real estate market into various districts or zones.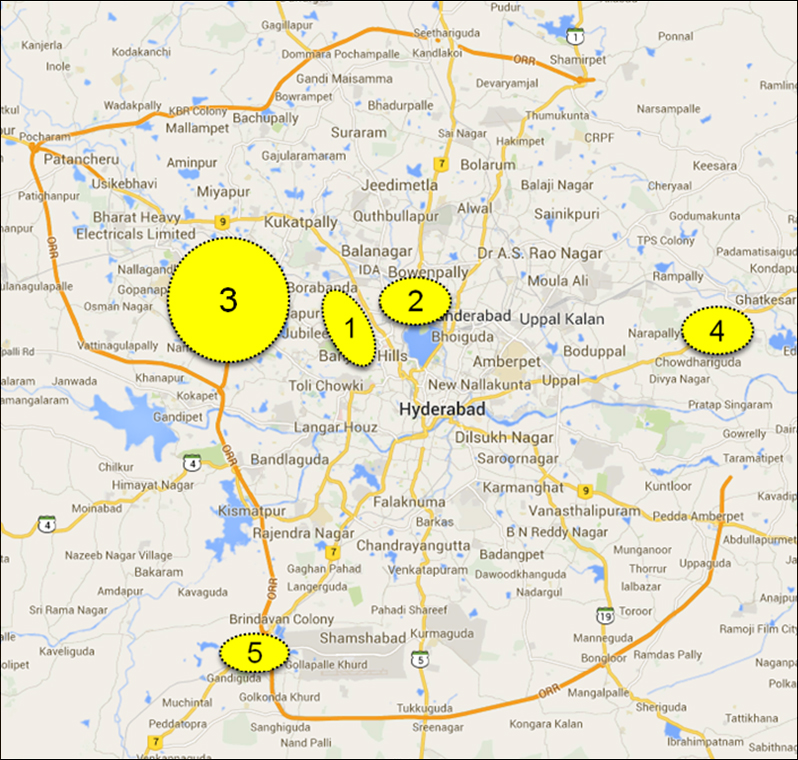 1. Central Business District (CBD): Banjara Hills, Jubilee Hills
2. Off- Central Business District (Off-CBD): S.P. Road, Begumpet, Somajiguda
3. Prime Business District (PrBD): Madhapur, Kondapur, Raidurg, Gachibowli (Nanakramguda, Manikonda)
4. Peripheral Business District –East (Peripheral East): Uppal, Pocharam
5. Peripheral Business District –South (Peripheral South): Shamshabad
Snapshot of the Prevailing Office Space Rentals in Hyderabad (in INR/sqft/month)

Business Districts
Warm shell
Furnished new
Furnished old
CBD
45-50*
65-70
55-60
Off-CBD
40-45*
60-65
50-55
PrBD
35-45
55-65
50-55
Peripheral East/South
20-25
40-45
30-35

* Due to lack of warmshell spaces in the said business districts, the stated rentals indicate office rentals for bare/cold shell office spaces in the respective business districts.
1. Central Business District (CBD): Banjara Hills and Jubilee Hills so far viewed as the premium residential and high street retail market, has, on account of its proximity to Madhapur/Hitech City, grown to become an important office destination. Several manufacturing, financial and construction majors like Natco Pharma, Neuland Laboratories, Mylan Laboratories, DE Shaw, Dr. Reddy Labs, Advanta Seeds, Karvy, IVRCL, Ashoka Developers, TV9, etc have their corporate offices housed in CBD. While on the key roads, the office buildings comprise of relatively smaller but modern office buildings; in the interiors or bylanes, several residences have been converted into corporate offices.
2. Off Central Business District (Off-CBD): S.P. Road, Begumpet, Somajiguda stretch was the CBD of Hyderabad office till few years back. While no more the CBD, this stretch continues to house few prominent financial, IT, telecom and manufacturing players like Coromandel Fertilizers, Visaka Industries, Pokarna, Bhagyanagar India, Aircel, Vodaphone, Intergraph, Sonata Software, Megasoft, Citi Bank, Airtel, HSBC Bank, Standard Chartered Bank, and, due to location advantage (located in the heart of the city) some marketing and customer service offices of corporates like GE India Industrial, SKF, Star Union Dai-Chi Life Insurance Company, Amazon, etc. are also located in this micro-market. The office developments comprise older developments by local developers.
3. Prime Business District (PrBD): Madhapur, Kondapur, Raidurg, Gachibowli is the new commercial hub of Hyderabad. This area is marked by large, modern, sophisticated office buildings, developed largely to cater to the needs of IT, ITeS and financial services companies. Due to scope for large office space availability and significant development potential, PrBD is the area where maximum office transactions happen in the City. Therefore, PrBD currently drives the office real estate market in Hyderabad.

PrBD has both multi-tenanted buildings and built to suit (BTS) buildings. It also has Special Economic Zone (SEZ) developments. Companies like HSBC, Dell, Accenture, IBM, Cognizant, CSC, Deloitte, Oracle India, Tech Mahindra, TCS, Wipro, Google, Facebook, Open Text, Wells Fargo, Invesco, Accenture, Polaris, Microsoft, Amazon etc are present here.

While there is limited potential for further development in Madhapur, plenty of land is available for development in Gachibowli and Raidurg. Gachibowli is also characterized by some campus developments on land allotments by the Government like Microsoft, Indian School of Business, ICICI Bank, Franklin Templeton, CA, Cognizant, Wipro etc. Backup headquarters of Bombay Stock Exchange (BSE) is also under construction in Gachibowli and expected to be operational in 2014.
4. Peripheral Business District East (Peripheral East): Uppal, Pocharam are upcoming business districts of Hyderabad. Currently, there are few operational office developments in this micro market. Infosys's one of a kind pyramid style building campus is in Pocharam. However, keeping in mind the land acquired by/allotted to developers there is potential for large scale office developments. With the saturation of the PrBD and good connectivity being offered through ORR, this micro market is expected to grow and develop in future years.
5. Peripheral Business District South (Peripheral South): Shamshabad is located on the south of Hyderabad. The Rajiv Gandhi International Airport is located in Shamshabad. In expectation of growth in the micro market owing to its proximity to the airport, several developers had acquired/were allotted lands here for office developments. However, due to ample potential in PrBD, office growth in this micro market has not taken off as expected. However, with the saturation of the PrBD, good connectivity being offered through ORR, and proximity to PrBD and International Airport, this micro market is expected to grow and develop in future years. Two prominent office space developments available for lease are Indu SEZ and Mindspace SEZ. TCS & Cognizant have been allotted lands in Adibatla (about 15 km away from Airport) for setting up IT office. TCS is expected to commence its operations here soon.
Note
(1) On June 2 2014, a separate State Telangana has been carved out of the erstwhile State of Andhra Pradesh. Post the bifurcation the city of Hyderabad shall be the Joint Capital of the two States for a period of 10 years.
(2) Area under the jurisdiction of Greater Hyderabad Municipal Corporation (GHMC)
(4) Area under the jurisdiction of Hyderabad Metropolitan Development Authority (HMDA)
(5) Of the total proposed 158 km ORR, currently a large part ie. 125 km is completed & operational (Gachibowli-Shamshabad, Shamshabad-Pedda Amberpet, Narsingi-Patancheru & Patancheru-Shamirpet). The last stretch of 33 km from Shamirpet to Pedda Amberpet is under construction and expected to be operational by mid of 2014.